About Lynn Radeka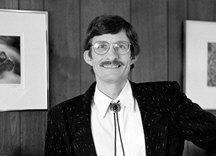 Lynn Radeka's professional photography career spans more than fifty years. Influenced in his early work by Ansel Adams and Wynn Bullock, he continues to pursue a technical and aesthetic mastery of the medium of photography. His love of grand landscapes, intimate details, small towns, backroads and ghost towns of the American West was born on his first trip to Death Valley in 1966.
This site features many of Radeka's classic images as well as a number of personal favorites. Lynn Radeka's Black and White photography has been featured in eight National Park posters and is represented by several galleries throughout the United States and Europe. He also has the honor of being a featured photographer in the recent book publication "World's Top Photographers: Landscape". All prints on this site (as well as many more images not shown on this site) are available for purchase. The Contrast Masking Kits and Precision Pin-Registration Carrier Systems, as well as the popular Contrast Masking Workshops and Location Workshops, are currently available.

LensWork Magazine. Lynn had the honor of being published in the prestigious LensWork magazine, where a portfolio of his Black and White images, including the cover image, were featured to celebrate his 50 years in photography.

Classic Imaging Magazine. A portfolio and interview was published in the winter, 2020 edition, including the cover image.

Cameracraft: Landscapes. This new book features images of popular photographers throughout the world, including about a dozen of Lynn's Black and White and Color photographs along with text and information on each image. Published by AVA Publishing SA, 2002.

Way Beyond Monochrome. This new book covers technical Black and White printing and other procedures. Lynn has written the chapter on Contrast Masking, discussing a few of the procedures included in his Contrast Masking Kits, and many of his Black and White photographs are included to illustrate various techniques. This Fountain Press book is now available at fine bookstores. Contact Fountain Press for more information.

Spotlight article on Lynn Radeka in B&W Magazine. A portfolio and interview of Lynn Radeka.

View Camera Magazine. Published two issues on Contrast Masking techniques for traditional printing by Lynn Radeka.

LensWork. One of the most pristigious publications for showcasing the work of photographers is widely considered to be LensWork magazine. A portfolio of Lynn Radeka's B&W images, including the cover image, was published in the February 2021 issue celebrating his 50 + years in photography.
The World's Top Photographers: Landscape. This new high quality book features the photography of Lynn Radeka and 37 other noted photographers such as Christopher Burkett, Charles Cramer and Michael Fatali. Contains several of Lynn's black and white images along with text written by author Terry Hope. Published by Rotovision as part of their Modern Masters series. Available in fine bookstores.
One of Lynn Radeka's on-going photographic projects involves the extensive photography of America's mystical ghost towns. For nearly thirty years, these historic and colorful places have been a prime target for his photography. The book pictured to the left, Ghost Towns of the Old West, featuring photography by Lynn Radeka and text by Gary Topping, was published by Mallard Press in 1991. Lynn has been fortunate enough to have gained special access to a few of the west's most photogenic yet carefully guarded Ghost Towns. Other book publications by Lynn Radeka include Historic Towns of America, Legendary Towns of the Old West, Forts and Battlefields of the Old West, and Great American Hotels.
Strength In Shades Of Gray. This 2007 tritone calendar features 13 of Lynn's black and white images. Published by the W.E. Andrews Company, it is a large format wall calendar, suitable for displaying large quality reproductions of classic as well as new images long after 2007 is over. Because of the high quality of the reproductions, these images can be individually framed and overmatted to create a luminous and lasting presentation. For more info click here.
Master Of Light: Ansel Adams and His Influences. This very large coffee table book was published by Todtri Productions in 1997 and is written by Therese Lichtenstein. Lynn Radeka was commissioned by Todtri Publications to print all of the 8x10 Ansel Adams prints used for reproduction in this handsome book. The Ansel Adams negatives were furnished by the Library of Congress.
The 2000 American West - Radeka wall calendar represents the fourth year of this popular At-A-Glance/Landmark publication. Featuring twelve original images photographed in the American West.
"In the hectic environment of Manhattan, I find peace in the stunning beauty of nature in my own apartment - through the lens of Lynn Radeka." Nancy Grace - 2005
Many thanks to my friend Nancy Grace of Headline News' Nancy Grace television show, Court TV's Closing Arguments and CNN's Larry King Live for collecting
my photography and for her kind comments and display of my B&W photographs
- As seen on HGTV, InTouch Magazine and Imus In The Morning -
Lynn Radeka has traveled and photographed the American landscape extensively since the late 1960's, making the nation's West and Southwest his forte. In the early 1970's, he had the fortuitous opportunity to have his early work critiqued and encouraged by four of his inspirational models, legendary photographers Ansel Adams, Wynn Bullock, Henry Gilpin and Al Weber.
Radeka's photographic images, both color and Black and White, have been showcased in a variety of media. In the early 1990's, he had five distinguished full-color books published: Ghost Towns of the Old West, Historic Towns of America, Forts and Battlefields of the Old West, Legendary Towns of the Old West and Great American Hotels. One of his recent projects includes the printing of the photographs for the black and white book Master of Light: Ansel Adams and His Influences, published by Smithmark. The At-A-Glance/Landmark calendar Radeka-The American West featured many of his finest black and white landscapes and details of the American West. His work and technical writings have appeared in other publications as well, including the book Way Beyond Monochrome (Lambrecht and Woodhouse).
Lynn Radeka's photographs have been published as fine art duotone posters for Arches, Canyonlands, Capitol Reef, Death Valley, Grand Canyon and Zion National Parks. In addition, his photographic expertise has been shared in numerous technical articles published in major magazines including the book Contrast Masking Kit. His original prints can be found in several private, corporate and museum collections as well as galleries and internet sites.
"My photographs portray my personal response to natural and architectural subjects and to me seem to convey a Kubrickian, often formal quality." This self-assessment reveals the essence of a Radeka photograph. His quintessential expression is through black and white photography which to him reveals the "soul" of the subject.
A true craftsman of the lens, Radeka blends traditional styles with contemporary techniques. Since the mid 1970's, he has been utilizing a variety of elaborate pin-registered contrast masks, including shadow masks, highlight masks and specifically designed combinations of both. In the late 1980's, he also adopted the extensive use of very effective shadow-contrast-increase masks (SCIMs) in order to coax amazing variations of contrast in localized areas of the image. Varied combination toning, localized print "bleaching" and specialized paper selection are but a few of the other fine-tuned elements that go into the making of a uniquely original black and white Radeka photograph.
But in the end, he goes beyond the technical mastery of the medium to achieve his visualization, producing a unique "tactile" quality which he strives to achieve in many of his images. Indeed, each print is a sensory depiction of black and white splendor that displays the "inner response" of Lynn Radeka.